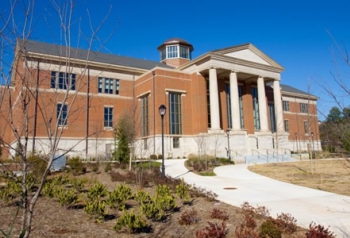 The University of Georgia Special Collections Library Building will houses the Hargrett Rare Book and Manuscript Collection, the Richard B. Russell Library for Political Research and Studies, and the Walter J. Brown Media Archives and Peabody Award Collections.
Sustainable Design Features:
Five Bio-retention areas and one enhanced swale using engineered soil mixture will infiltrate stormwater on site. Pollutants will be removed through both soil and plant absorption.
Approximately 105,000 gallons of underground cistern storage has been provided to store stormwater runoff and settle pollutants from the building roof and site.
Stormwater runoff will be reduced by providing a net decrease of 1.23 acres of impervious surfaces and encouraging surface infiltration through the use of mulched landscaped beds and mild sloping sod green space.
Prior to construction only 18% vegetation on site; Post project site will be 55% vegetated. There will be 75,000 SF of new vegetation: 50,000 SF will consist of native and adapted plants and 25,000 SF of turf.
All exterior paving materials will have high solar reflectance reducing the overall heat island effect for the site.
Project location in close proximity to downtown and campus services supports pedestrian oriented campus and community connectivity. Project serviced by two transit systems: Athens and UGA bus lines.
Cistern will provide a non-potable water source for site irrigation and, in the future, reclamation water for the neighboring UGA Central Utility Plant.
Drought tolerant plant material was selected and sod areas minimized to reduce total irrigation water demand.
Low flow plumbing fixtures will reduce indoor water consumption by 44% from that of a baseline design.
Energy efficient design strategies are predicted to result in energy cost savings of greater than 21% above ASHRAE baseline.
At least 75% of all construction waste for the project is to be recycled.
Up to 20% of the building materials will be extracted, processed and manufactured within a 500 mile radius of the project site.
Many of the building products (concrete, steel, gypsum board, carpet, etc.) incorporate recycled content materials to reduce the impacts resulting from extraction and processing of virgin materials.
To continue waste reduction, recycling centers will be located on each floor.
Interior finishes including adhesives, sealants, paints, carpets, and composite wood products have been selected to protect the indoor environments from volatile organic compounds (VOCs).
UGA's innovative green cleaning policy will be utilized to ensure the health of those who work, study and gather in the building.