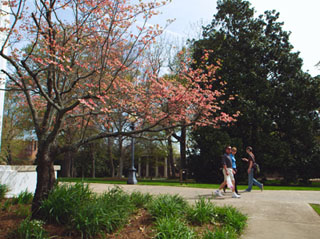 UGA's master plan endeavors to create the optimal student environment by extending the characteristics of historic north campus to other campus precincts. The master plan emphasizes the creation of connected greenspaces to promote a safe and pleasant pedestrian environment with minimized vehicular conflicts. In general, automobiles are routed to the campus edges, reserving the campus interior for infill buildings and memorable pedestrian spaces. Parking decks are being constructed along the campus perimeter, and pathways are designed to move people safely into the campus core.
The Alternative Transportation Program provides incentives for people to reduce the use of personal automobiles on campus. UGA is also assisting development of the N. Oconee River Greenway to provide alternative commuting options between campus and the community.
Biking
UGA promotes the use of bicycles on campus through developing bike lanes on campus roadways and providing bike racks at each building. Where possible, covered bike parking and shower facilities are provided. (Click to view the Bike Master Plan or for a Map of Bike Racks on campus.)
Transit
UGA boasts the largest Campus Transit system in the country. Visit the Campus Transit website for detailed bus route and schedule information or to arrange for special transportation needs. Members of the campus community can also ride Athens Transit "The Bus" for free with a valid campus ID.
Motorcycles / Mopeds / Scooters
Designated parking areas for these vehicles are provided in various campus locations. A map of current Motorcycle / Moped parking locations can be found here.
Parking
In total, UGA offers approximately 18,000 parking spaces on campus. Visit UGA Parking Services for detailed transportation and parking information.