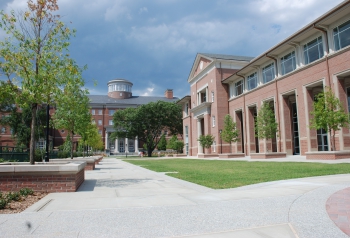 2009 saw the addition of the campus's first LEED certified building, the Tate Center Addition. Tate met or exceeded the stringent requirements for site sensitivity, water conservation, waste management, inclusion of local and recycled materials, energy efficiency, and indoor air quality to achieve the LEED Gold designation. In conjunction with the Tate addition, work was completed on the new Georgia Quad and the Alumni Plaza. The quad took a former asphalt drive and turned it into an iconic greenspace that helps frame and connect the surrounding buildings, improves fire safety access, and creates a safer and more enjoyable environment for pedestrians on Central Campus. The Alumni Plaza is The University's newest and largest green roof. Conceived to eventually join the Tate Center to a future building directly to the west, the plaza provides an attractive green space for students to gather and study. 
Sustainable Design Features:
The project diverted 75% of construction waste from landfills to a construction waste recycling facility that provided materials such as gravel mulch and soil to be reused at the Tate Center and for other projects on campus such as the Rec Sports Fields p
21% of the materials used in the project were recycled.
Low VOC materials were used throughout the building.
The building was constructed on a previously paved parking lot. After completion, the entire site has a significant net increase of permeable surface and green space.
40% of the building materials were from local or regional sources.
The green roof plaza and other exterior materials with high solar reflective indexes were used to reduce the heat island effect.
A 75,000 gallon cistern is used to collect precinct rainwater from Miller learning Center and Tate roofs, and condensate from the Tate mechanical system to provide gray water for flushing toilets and urinals throughout the building and irrigation for adja
The building has a very efficient mechanical system with heat recovery and economizer mode.
Numerous bioretention gardens along the Dog Walk and Lumpkin Street help treat storm water to protect Tanyard Creek from pollution and excessive runoff.
Preferred parking is allowed for low emitting and fuel-efficient vehicles.
Bike racks and shower facilities are provided for bicycle commuters.
Green housekeeping procedures are utilized at the facility.
Close proximity to convenient and high quality University and Athens bus systems makes it easy for commuters to leave their cars behind.
The building utilizes Daylighting Techniques to reduce energy costs and promote a healthier interior environment.
During Construction, ground water from the steam pit was captured and used for dust suppression and cleaning.
Excess water from this steam pit was given to the Grounds Department for Campus Tree Irrigation.
LEED Registered, Achieving LEED Gold certification.