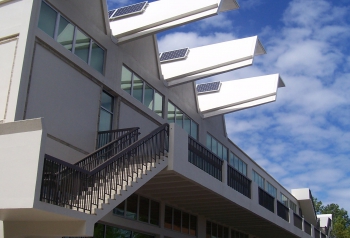 Originally constructed in 1962 to house The University of Georgia's visual arts program, the Jackson Street Building's modernist facade has always been prominent amongst the neo-classical Georgian architecture that predominates campus. After five decades of use, the building has been newly modernized with state of the art LEED features. Re-opened in 2012 following a complete interior renovation, the new facility is on track for LEED Gold in New Construction and Major Renovations. As the new headquarters for UGA's College of Environment and Design, the building contains administrative offices, lecture halls and studio space, a gallery, and the Owens Library. The University placed a high priority on using the most low-impact and sustainable methods possible in the construction of their new facility. The building is a manifestation of UGA's environmental values and an educational tool for students and the community.
Sustainable Design Features:
A/C condensate and rainwater run-off is stored in a 28,000 gallon cistern and then filtered, treated, and then reused by the building to flush toilets and provide make-up water for the cooling tower.
The plumbing features make the Jackson Street Building 40% more efficient than a standard building with the same number of fixtures.
The site is populated with native plants, drought tolerant plants and plants that are adapted to this climate.
The UGA College of Environment & Design building achieved a 22.6% energy savings over the original structure.
72 photovoltaic panels were installed on the south-facing skylight structures on the roof of the building. These panels produce 30,000 kilowatt-hours per year- enough energy to indefinitely power 90 T8 fluorescent lights for ten hours a day or 190 laptops
The innovative 'chilled beams' for heating and cooling the building is used. This system, the second of its kind in Georgia, is an experimental setup which transports hot or cool water through small pipes near the ceiling, heating or cooling by convection